International workshop "Contigency management, intelligent, agent-based computing and cyber security in critical infrastructures" (CM/IAC/CS/CI-2016)
February 03, 2016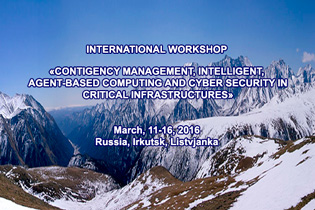 INTERNATIONAL WORKSHOP «CONTIGENCY MANAGEMENT, INTELLIGENT, AGENT-BASED COMPUTING AND CYBER SECURITY IN CRITICAL INFRASTRUCTURES» (CM/IAC/CS/ CI - 2016)
Organizer: Melentiev Energy System Institute SB RAS, Irkutsk
Dates: March, 11-16, 2016. Working language: English. Venue: Irkutsk, Listvjanka, Baikal Hotel (Eastland). From Irkutsk to Listvjanka - 65 km.

Scientific topics:
1. Contingency management in critical infrastructures based on integration of mathematics and intelligent technologies: theory, methods, development trends.
2. Theoretical and methodological issues of development and integration of intelligent, agent-based and cloud computing for contingency management in critical infrastructures
3. Situational awareness, semiotics, visual analytics, semantic modeling and their applications in critical infrastructures.
4. Application of intelligent, agent-based and cloud computing to support decision making in research and ensuring of energy security.
5. Methods, technologies and equipment for collecting and processing of data streams in Smart power systems, the possibility to apply the concept of Big Data.
6. Support of collective expert activities in the scientific research and decision making.
7. Cyber security of critical infrastructures.

Workshop schedule: March 11, 2016 – transfer Irkutsk - Listvjanka.
March 12-15, 2016 – scientific sessions and discussions.
March 16, 2016 – transfer Listvjanka - Irkutsk.

Deadlines:
February 1, 2016 - accepting report title and desirable price accommodation.
February 8, 2016 – accepting of abstracts for publication (in English and in Russian)
February 20, 2016 – sending of personal invitations and additional information.

Conditions of participation: Participation is possible only with a report. It's possible participation of accompanying persons. Organizing fee for both – 1000 rubles, for graduate and postgraduate students: 500 rubles.

Accommodation: in double comfortable rooms in the Baikal Hotel (Listvjanka). The prices of accommodation (only breakfast inclusive) per one person: From 850-1100 rub. (economy or standard) to 1250 (two-room family) rubles per day. Web-site http://eastland.pro (select "Directions of activity": "Hotel Baikal").

Сontacts: e-mail: massel@isem.sei.irk.ru, tel: 89148736049, Liudmila Massel.