2nd International Workshop on "Mathematical Modeling of Smart Energy and Power Systems"
March 07, 2019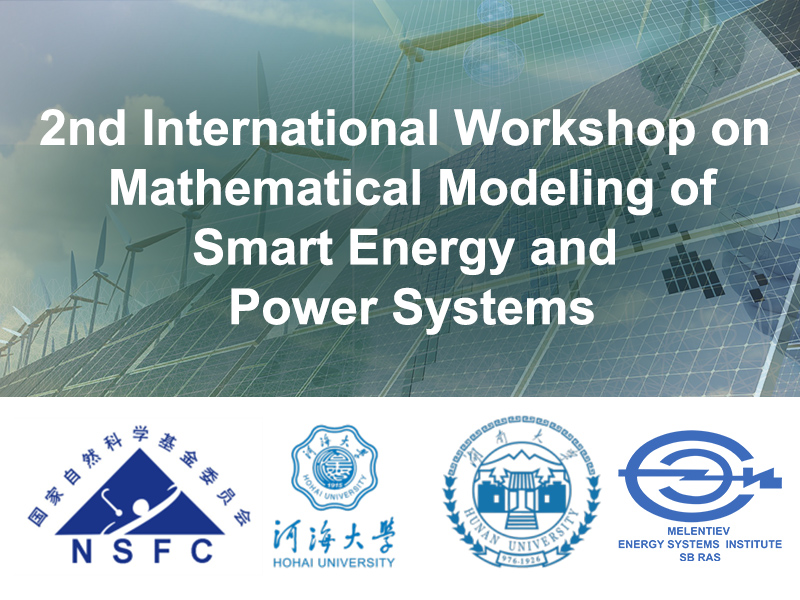 Dates: 20-23 June 2019
Venue: Changsha, China
The increasing partition of renewable energy sources in the electricity distribution has led to a principal re-thinking of the operation of the power grid, posing many fundamental mathematical and engineering problems. Development of advanced highly reliable isolated hybrid systems such as shipboard power system requires solution of various direct and inverse problems using the state of the art models. Workshop brings together theoreticians and practitioners to help bridge the gap between theory and practice and to share the experience in the challenging research fields gained by networks of excellence of Hunan University, Melentiev Energy Systems Institute SB RAS, Hohai University, Irkutsk National Technical University and others.
Program Committee
Prof. Yijia Cao, Hunan University, Chair

Acad. Nikolai Voropai, ESI RAS, Honorary Chair

Prof. Yong Li, Hunan University, General Chair

Prof. Denis Sidorov, ESI RAS, General Chair

Prof. Ping Ju, Hohai University, Honorary Chair

Prof. Fen Wu, Hohai University
Organizing Committee
Dr. Yi Tan

Dr Aliona Dreglea


Dr. Daniil Panasetsky

Mr. Changfeng Liao
Organizations
HunanUniversity

Melentiev Energy Systems Institute, SB of Russian Academy ofSciences

Changsha University of Science and Technology

Central South University

Hohai University

China Agriculture University

Irkutsk National Technical University Irkutsk State University

Ministry of Education of China

State Administration of Foreign Affairs
Important dates
1st information letter: 25 February 2019

Abstracts submission: 31 May 2019

Acceptance: 6 June 2019

2nd information letter: 20 June 2019

Preliminary program: 15 June 2019


Workshop: 20-23 June 2019