President of the Melentiev Energy Systems Institute, corresponding member of RAS, Nikolai Voropai has become a senior expert of the Technical Committee of GEIDCO
October 12, 2017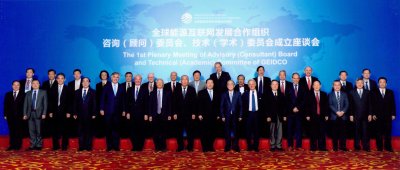 The first plenary meeting of Advisory Board and Technical Committee of GEIDCO
Nikolai Voropai received an expert certificate at the meeting of the Advisory Board and Technical (academic) Committee of the Global Energy Interconnection Development and Cooperation Organization (GEIDCO) that was held in late September 2017 in Beijing.
GEIDCO, with its permanent office in Beijing, China, is a nongovernmental nonprofit international organization established on a voluntary basis by the companies, institutions and individuals seeking to promote sustainable energy development worldwide.
The goals of GEIDCO are to promote the Global Energy Interconnection (GEI), meet global demand for electricity in a clean and environmentally friendly way, implement the UN's "Sustainable Energy For All" initiative, tackle climatic change problems, and serve the purpose of the sustainable development of humanity.
GEIDCO will seek to disseminate the GEI concept, develop a plan of its expansion, create a technical standard framework, jointly implement technological innovation, study essential GEI-related topics, arrange international communication and cooperation, foster implementation of engineering projects, provide consulting services, and play an important role in the GEI development. The establishment of GEIDCO marks a transition from GEI concept to its implementation. In the future GEI will also promote South-South and South-North cooperation, and help transform the surplus power into economic advantage in the regions like Asia, Africa and South America. This will undoubtedly help cope with power shortage and poverty, and narrow regional gaps and differences. Life will be better as the world gradually turns into a bright, peaceful and harmonious global village with sufficient energy, blue sky and green land.