First Call for Papers for the International Conference "Problems of Critical Infrastructures" to be held in Saint Petersburg
February 03, 2015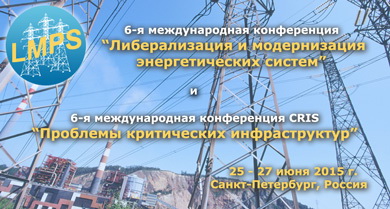 International Association "International Institute for Critical Infrastructures" (CRIS) was founded in the late 1990's as a platform for cooperation between the representatives of academia and industry dealing with the problems of critical infrastructures (electric power, pipeline, communication, transport, and other systems, as well as computer networks) in order to share experience and harmoniously integrate these technologies.
CRIS organizes technical conferences on topics related to critical infrastructures. Such conferences have already been held in Beijing (China), Alexandria (USA), Linköping (Sweden), Hanoi (Vietnam), and Berlin (Germany). CRIS also organizes workshops with invited participants on specific topics. Such workshops have taken place in Sweden, France, the USA, Germany, India, and Cyprus.
The next 6th CRIS International Conference "Problems of Critical Infrastructures" will be held on June 25-27, 2015 in Saint Petersburg, Russia jointly with the 6th International Conference "Liberalization and Modernization of Electric Power Systems", which was organized in 2000 and has been held once every three years.
Organizers of the joint conference
- Energy Systems Institute, Siberian Branch of the Russian Academy of Sciences
- St. Petersburg Energy Institute of Advanced Training, Ministry of Energy of the Russian Federation
The joint conference will be held with the technical support of IEEE PES German Chapter, IEEE PES Russian (Siberian) Chapter, Universities of Dortmund and Magdeburg, Germany, and Fraunhofer Institute, Magdeburg, Germany.
Topics of the joint conference
- Problems of development and operation of critical infrastructures
- Integration of critical infrastructures
- Cyber-physical security of critical infrastructures
- Modeling of critical infrastructures
- Operation control of critical infrastructures
- Planning of the critical infrastructure development
- Integrated development and operation of critical infrastructures.
Working languages of the joint conference are English and Russian. Simultaneous translation will be provided.
Main dates
Submission of papers – April 15, 2015
Notification of accepted papers – May 15, 2015
Final text of the paper – June 15, 2015
Conference – June 25-27, 2015
Organizing Committee – Voropai N.I., Styczynski Z.A., Rehzanz Ch., Nazarychev A.N.
Secretaries of the Conference – Liudmila Gurina, tel.: +7-914-915-10-29,
Daniil Panasetsky, tel.: +7-950-100-02-60.
e-mail: gurina2503@gmail.ru, panasetsky@gmail.com.