Department of energy security #30
Research topics:
Formation of scientific foundations for operation management of the energy sector and energy systems and substantiation of rational strategies in their development considering survivability and energy security requirements;
Determination of the character, composition, relationships and criteria for estimation of strategic threats to Russia's energy security for the coming 20-30 years;
Development of methods and tools to estimate an effect of strategic threats on energy security of Russia and its regions;
Simulation of critical situations and determination of potentialities for the energy sector and energy systems in the most complete supply of consumers with energy resources in different conditions of energy operation and development;
Development and application of the up-to-date information technologies appropriate for energy studies.
Main results in recent years:
energy security concept and terminology for Russia and its regions;
methodological essentials in energy studies in terms of energy security, methods and models to investigate energy sector development strategies with regard to the energy security requirements;
main concepts and methodology of monitoring and indicative analysis of the energy security of Russia and its regions;
study and analysis of threats and basic bottlenecks in the economy and energy sector of Russia in terms of energy security;
conceptual generalization of the state regulation in energy security maintenance;
the methodology and methods of superlong-term forecasting of nature-related energy components (water inflow to reservoirs of hydro power plants, air temperature during the heating period, etc.);
determination of the natural risks of long-term low-water periods and rain floods on the Angara cascade of hydropower plants;
methodological principles in development of an information technology for energy security problem study and the appropriate techniques based on application and integration of the advanced information technologies as well as the pattern of information interactions.
The energy security concept developed by the department formed the basis for the Doctrine of energy security of Russia.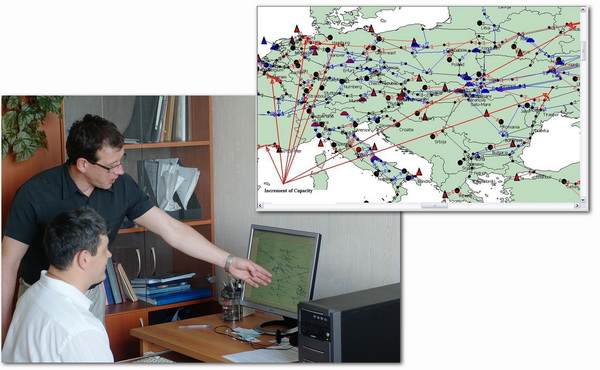 Energy reliability and security research works on basis of the computer model of European gas-transport system.